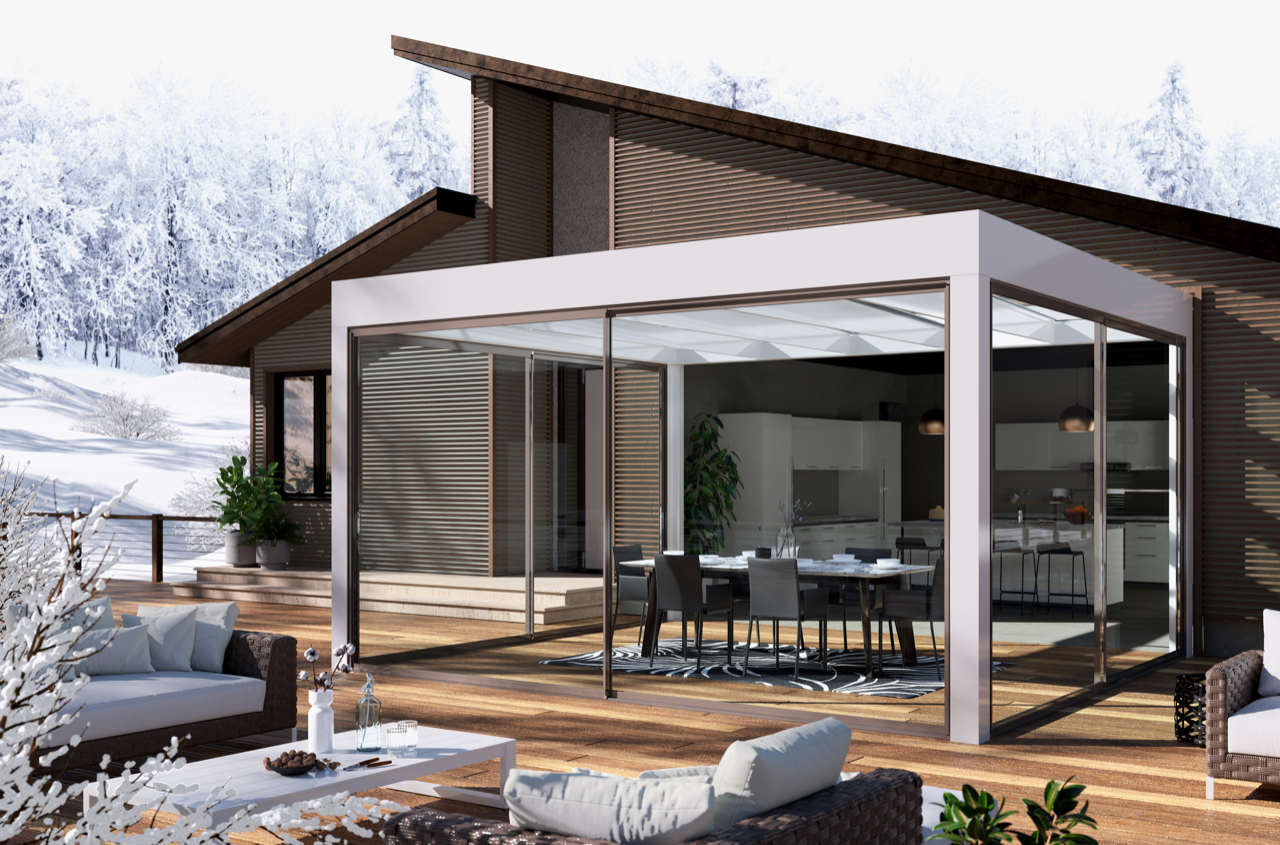 The conservatory, which began as an orangery or lemon house, in previous centuries was a space dedicated to growing citrus fruits and other fruits during the winter period, often annexed to a villa. Today we can define it as an exclusive corner where we can enjoy all the comforts and tranquillity of our own home. In fact, the conservatory concept has extended to become a fully-fledged residential environment that, compared to any other room, offers many benefits in terms of hospitality and functionality. Designing and creating a conservatory means investing in a space that offers:
Living comfort because it expands the living area with a unique and highly customisable corner;
the ability to enjoy your garden all year round thanks to its natural "opening" towards the outdoors;
reduction in energy consumption since, thanks to the mobile glazed units, whether folding or sliding, it allows you to use the heat of the sun during the winter and promote natural ventilation of the environment;
multi-functionality because the conservatory can be used as a sitting room, dining room, study, relaxation room, or fitness area;
increase in property value since the conservatory enhances the appearance of the building and thus its commercial value.
How to design a conservatory
There is no single conservatory solution for everyone as there are many customisations based on your own needs. There are, however, certain key points to consider in any projects, to name a few:
Orientation
In order to create the best solution, the orientation of the conservatory must be taken into consideration in order to make the best use of its sun exposure. Northern exposure, for example, offers a cool climate in the summer, but is not particularly suitable in the winter months, because it has little light and requires an adequate heating system. A south-eastern or south-western orientation, on the other hand, offers better sun exposure throughout the day and offers a pleasant indoor climate during the winter, but during the hot months it will need a good ventilation system with efficient sunshade systems so that it does not become a sauna!
Connection with the house
Once the exposure of the conservatory has been determined, it is important to consider to which room it will be connected. Usually, conservatories are added to the sitting room or a living area because they capture solar radiation, contributing to a pleasant indoor climate and allowing the most lived-in areas of the home to be connected with nature. However, there is nothing preventing you from building them onto a bedroom area to create a private room for resting and relaxation.
Shape and size
It is just as important to define the square metres of the conservatory and its shape, which with Sunroom solutions could be square, rectangular, or polygonal, with various façades and roofs, attached to a building or independent and completely separated from the rest of the house. The style of the structure is highly customisable and the conservatory is usually enhanced aesthetically and architecturally based on your own style.
Material
Last but not least, it is important to choose the material used to create it. Aluminium is certainly the material of choice for this type of structure.Available in a wide range of colours, it allows the building to be integrated into its surrounding environment while the inside can be customised according to your own style.
Aluminium is also a completely recyclable material that is safe and long-lasting and allows the construction of minimal and solid structures, leaving maximum space for glass in order to have great luminosity and be of light construction. Sunroom conservatories, available in thermal break and non-thermal versions, always maintain a high level of impermeability and resistance to weather and will win you over with their minimal design that emphasizes transparency and brightness.