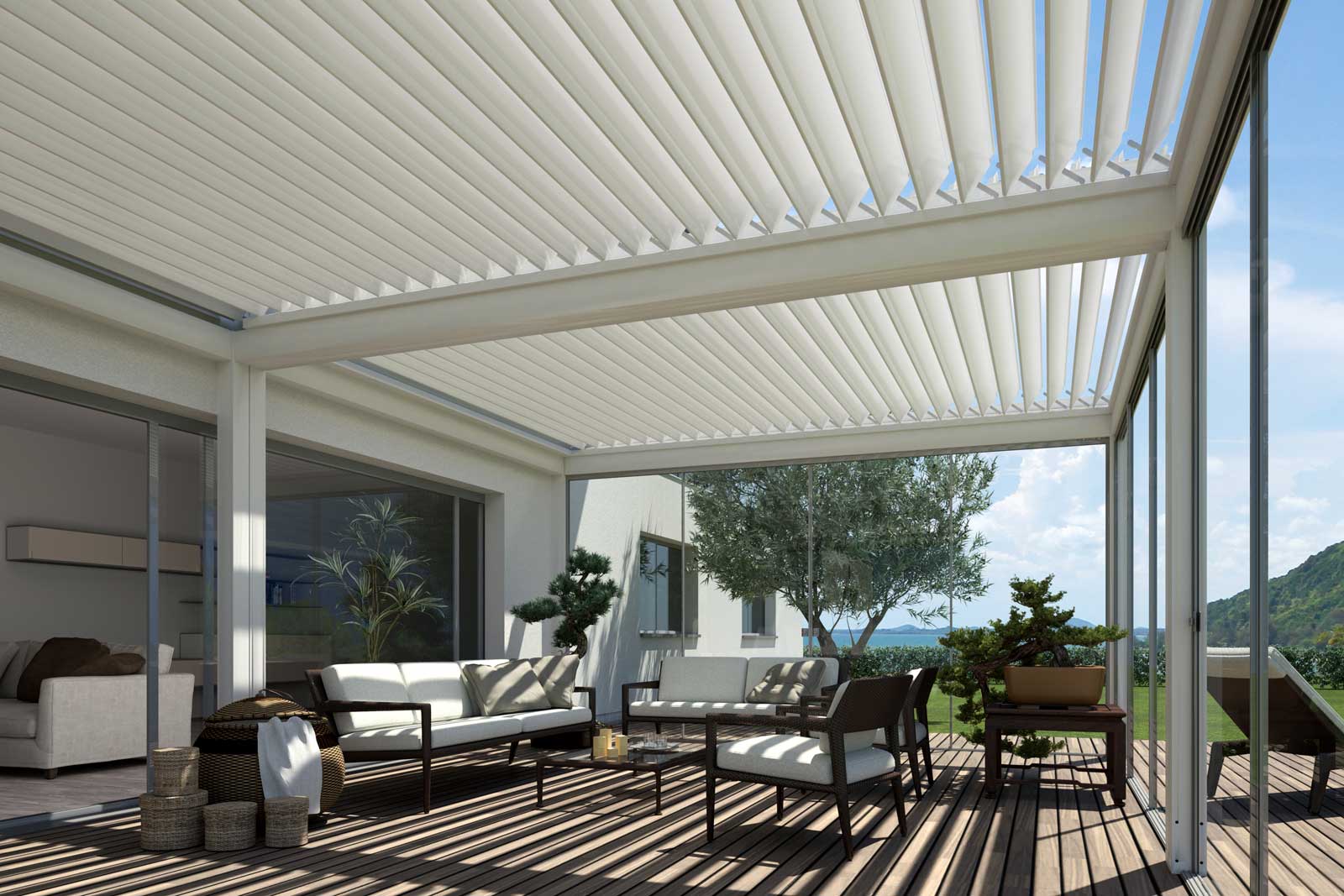 Bioclimatic pergolas are an excellent solution for protecting an open area from water, wind, and sun, or to create an additional and flexible covered area and thus adding more space to your home. The bioclimatic pergolas designed by Sunroom are made of insulated adjustable slats that can be rotated and packed all automatically, thus allowing maximum freedom in adjusting the level of coverage, ventilation, and lighting in the environment so it can be used in full freedom and relaxation. They can also be equipped with LED lighting built into the structure along with climatic sensors for maximum comfort.
Performance and Quality
Today bioclimatic pergolas must ensure good resistance to weather, wind, and water in particular. The Oskura bioclimatic pergola was subject to tightness tests that rated it Class 2A for water resistance (UNI EN 12208) and Class 6 for wind resistance (UNI EN 13659:2009). In this case Oskura was tested at a pressure of 4,500 Pa, without any deformation or breakage of the system. This is, in our opinion, the quality to be guaranteed to a modern bioclimatic pergola. It is truly important to assess the safety and stability when creating this type of structure and to not skimp on quality!
Each Sunroom project has its own story. Our work method has always adapted to our customers' needs. Bioclimatic pergolas in aluminium can be created with the maximum degree of freedom and based on the space to be protected. If the space is isolated, self-bearing structures can be created. Otherwise, an existing space can be covered or you can create a pergola fitted to a wall. It is not possible to display a price list since the price to build a bioclimatic pergola depends on many different factors such as: size, structure, finishes and/or colours chosen, customisation, etc. For this reason, our planners and partners are at your disposal to find the best solution for your specific project. Another element that should not be neglected are the maintenance costs: the use of aluminium and the reliability of the components used for the mobile parts (always available, for any need) makes maintenance simple and economical and ensures greater durability over time compared to pergolas with wood structure or coverings created with curtains, for example.